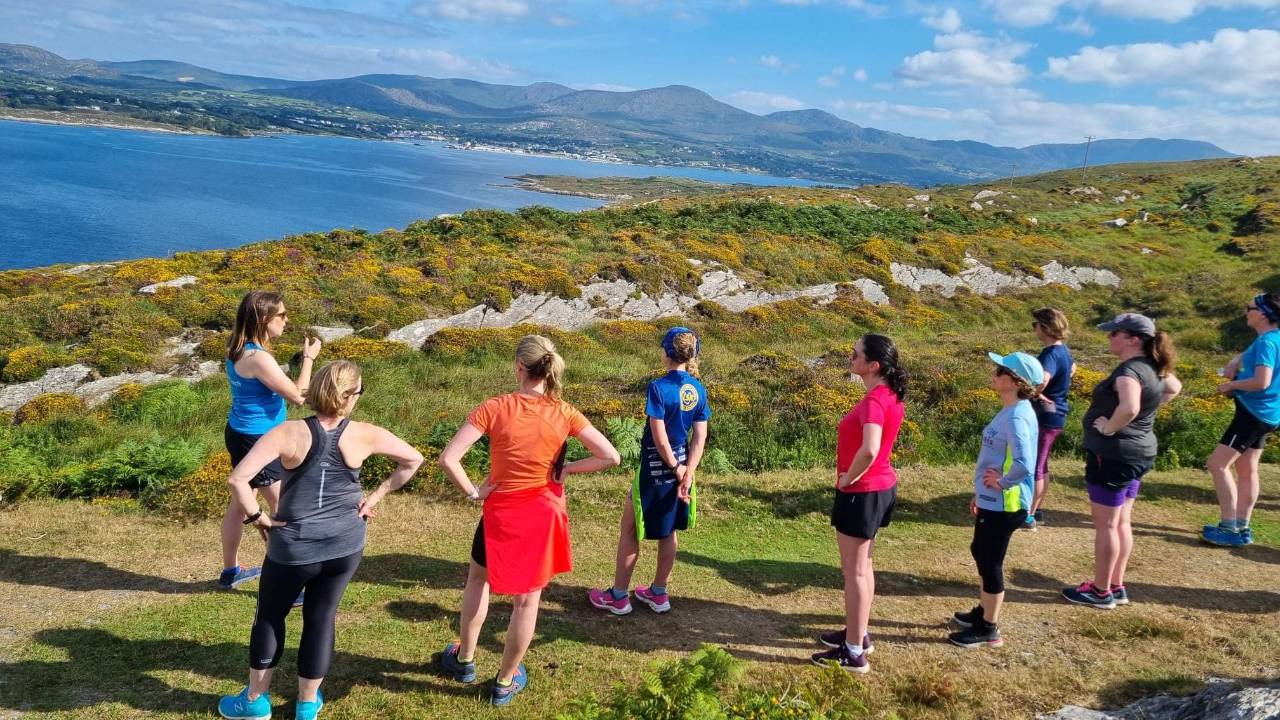 Our Favourite Memories of 2022
Apr 03, 2023
How do you narrow a whole year into 10 highlights? It is hard for sure, but I've given it my best shot. So, in no particular order…….
1. West Cork Runners Retreat
The Beara peninsula is one of my favourite places, so to bring a group of runners down here (twice) this summer was just wonderful. We went as remote as we could go – all the way to Bere Island and spent our time at Wild Atlantic Glamping savouring the sights and tastes of west cork! To spend such time together was a privilege, with no where else to be, we toasted marshmallows, explored the island and made the most of one of the most beautiful places in the world. So thilled to be heading back in 2023! See more pictures of Bere Island Retreat.
2. Becoming a runner
Nothing beats the feeling of watching a walker turn into a runner. On the first week they arrive at class nervously, walk/running sections of 1 minute but by week 7 they are chatting, running and have completely changed their belief on what is possible! The icing on the cake is seeing them through the finish line of their first parkrun too! So well done to all of you who have starting running with us in 2022 and have opened up this whole new world to yourself for the future. We start 9th January with a brand new term of Beginners Coaching.
3. The Sky is the Limit
Most of you know Aoife, who has been coaching with me at ForgetTheGym for many years. But beyond her coaching, this year she has been a huge inspiration with her own running. We are all guilty of setting limits on our capabilities but Aoife has shown me (and many of you) that we can go beyond our greatest expectations if we put in the work, surround ourselves with others who are on the same path, and keep consistent and determined. Huge congrats to Aoife for all her record breaking speedy runs this year and the inspiration she has been to show us all what is possible for us all if we are willing to invest the time in what we really want.
4. Escape to St Jeans Retreat
After a 3 year wait we finally were able to bring our first group to the magical St Jeans Retreat in the south of France. There literally are no words to describe this place. We book out the entire venue and from private running trails to the amazing food, it is a getaway we will never forget. Our hosts are so welcoming, the scenery spectactular and the atmosphere so much fun we almost forget about the hills! So good it was, we are going back again in May 2023. We are counting down the days already!
5. Behind the scenes
Even though you might thing I just run, drink coffee and talk about fresh air all day, most of my time is in front of a computer and after 14 years, you might think i'd be quite efficient! But actually administration, emails, virtual coaching and writing takes a lot of time and as we offer more coaching and events Ive got to manage my time better! So this year I actually got my own coach! Not a running one, but a business one – to help me work better and offer you guys so much more – without burning myself out! It is still a work in progress – but things are changing – and all for the better! Although its behind the scenes mainly for now, you will start to see new things coming your way soon. So to all waiting, it is coming for sure…
6. Marathon Training
They might not realise it, but our fabulous marathon group of 2022 were the first people to have their coaching programme delivered via our this brand new shiny software. And what a fabulous group of guineapigs they were! From all over the country they trained together virtually and in person through summer and autumn listening in on my weekly coaching and ticking off each week with style as they moved towards marathon day and all the ups and downs the 5 months brought. To be able to guide this group of runners to their marathon finish line was an absolutely honour. A marathon is a massive achievement but to do it with such dedication, positivity and camaraderie was wonderful to experience. Huge congratulations to you all! If you are lucky enough to have a spot for Dublin Marathon 2023, we will return later this spring with a new marathon programme.
7. Back at the races
After covid it felt very strange to be back out at a race environment and the year was slow to start on this front. But what focus a race deadline gives. So whether you did your first race of a certain distance, or made a comeback, or indeed ran longer than ever before, it was a pleasure to share it with you and guide you along the way. Lets celebrate these milestones and finish lines and use them to inspire us to keep on moving all the more! Our competition is always only with ourselves. But that can be the hardest challenge! From parkruns to clontarf, raheny to many days out in Phoenix park, there are lots of days to remember.
8. Special 'ordinary' nights
No two nights are ever the same at class. The weather, the group, the route and the chats are always different and you never know what you might get when you turn up. Some of those nights when you least fancy going are often the best ones. From rainbows to hailstones, festive lights to full moons, you never know what might be around the next corner and that's what makes getting out in the evenings so amazing – even if the weather might not always appeal when you are getting ready to go! We never regret getting out the door, and without classes I can confirm there are nights I might not have gone myself, so thank you to all who have made the commintmetn this year to move in the evenings, get out the door and share the paths with other ladies who just like you could easily have made an excuse not to go!
9. Return to Beaujolais
Since our first trip in 2009, our annual trip to Marathon du Beaujolais marks the end of our autumn running adventures. After a few years without it due to covid, I was back in school teacher mode taking a trip of 50+ runners to France for the weekend of celebration. From a few little wine stops en route to fancy dress, you have to go to really experience it, but what the highlight is for me is the friendships that are made here. With 2 nights away from our every day, this is the weekend where many of our gang get to know eachotehr best and create friendships that last long beyond the weekend.
10. More than running
From yoga and hiking to sea dips and picnics, 2022 was also the year where many of us met at events that were not just running focussed. There is more to life than running indeed and to be outdoors with others doing anything at all is just fabulous. The camaraderie, exploration, fun and coffee are a perfect combination and we had some lovely days out in 2022. Even when we couldn't meet together, having our virtual classes on our members area from Linda, Aoife and myself online gave many of you a focus once you got out the door. It was great to roll out the mat in the garden, at your park or on the beach and follow along!
Just one more thing …..
More than anything what I am most proud about of in 2022 is our community. It might sound corny but the support and encouragement that every member of our gang gives both virtually and in person is amazing. We have all gone through ups and downs this year and to know that there are people out there who you can chat with and who can help you through makes all the difference. How running buddies rally around each other on tough days is just incredible. So thank you – to all of you who have helped a runner, supported them, got them out the door, make them feel better in any way you can – well done! We are better together for sure!!
Thank you all for a wonderful 2022. We have hundreds more photos in our Facebook Community and our wider Facebook Page. Roll on 2023 now and we hope you can continue to be part of the magic.
Happy new year
Mary x
Don't miss a step!
Subscribe to our newsletter and keep up date on all our latest news and get training tips and motivation right in your inbox.