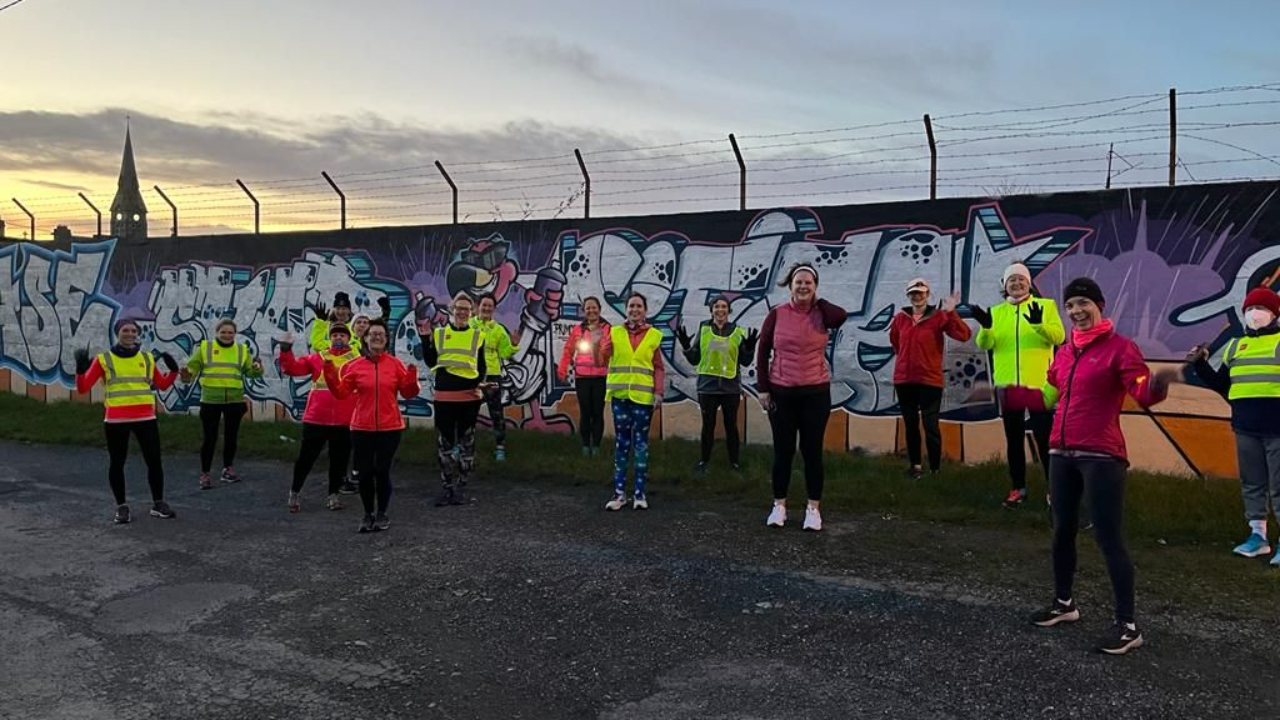 How to gear up for winter running
Oct 28, 2023
When temperatures drop – how to adapt our running wardrobe
Within the space of a week we have gone from record breaking tropical October temperatures to feeling a real chill in the morning air. The speed of change has left many runners confused about what to wear. Yes, it's time to dig out the winter layers, but not pop them all on just yet. Let's gear up gradually and try not lament too much the passing of shorts and t-shirt season. It might be darker and colder but once we dress right and choose safe routes, this is actually a wonderful time of the year to run.
The most important layer
Safety comes first this time of year so whatever you do decide to wear, please ensure that you are visible. I've noticed so many runners in recent weeks in dark clothing. They have been caught by surprise at how quick darkness descends. It seems strange to wear hi vis over a t-shirt on a balmy October evening. But there is no denying sunsets are much earlier these days. Our brains are still in summer running mode. Don't get caught out. Hi-vis gear comes in many forms from jackets to bibs, lights to backpacks. If you don't have it already, find something that's light, comfortable and practical that will see you right through the winter months.
Don't overdress
As temperatures dip it can be tempting to want to feel cozy heading out the door. But don't dress as if you are going for a walk. Very quickly you will regret the added insulation as your body heats up. Running will feel more effort. Instead dress for the second half of your run. Let your body expend its energy on your running performance rather than having to focus on cooling down your core temperature. Leave coats, hoodies and fleeces at home and layer up the extremities first. Pop on a pair of gloves and a hat or a buff. These are easy to peel off and stick in your waist band or pocket. I always recommend a warmup indoors so your body is warm, ready to run and not inclined to crave extra layers starting out.
Soaked to the skin
Top of the running fashion questions I'm asked is about waterproof running jackets. Honestly, I've yet to find one within a reasonable price tag that actually works. Anything that is waterproof tends to be too heavy for running and also keeps sweat close to the body. Instead, I accept the fact that I might get wet on the run. Maybe you can too. Running in the rain can be very liberating, it is just hanging about before a run in the rain that can feel miserable. If I am at race or event where there will be some delay before running, I wear a black plastic sack over my clothing as my waterproof layer when waiting near the start line. Once I start running it's off and in my back pocket. It's a lot more portable and practical than carrying around a heavy jacket I cannot discard.
The Top Half
If you do want to invest in a jacket, there are plenty windproof lightweight jackets for runners from discount brands to designer style. I recommend these more than waterproof as they can be easily tied around the waist if needed and you can wear multiple layers inside as the temperature dips. While a t-shirt and light jacket might be fine in autumn months, once it gets colder make the base layer closest to your skin something breathable. Many runners swear by a long sleeve merino wool layer as it takes sweat away and is also antibacterial. But I've also acquired plenty of cheap base layers over the years that are just fine for a midweek trot around the block. You don't need to spend a fortune. You probably already have most of what you need. Its just a matter of digging it out.
A waterproof luxury
My winter treat in recent years are my waterproof socks. Weird as it sounds, once my toes feel warm, the rest of my body is just fine. It makes coaching, running on grass and even watching kids football on the side of mucky pitch more comfortable and enjoyable. I'm not a fan of the squelching of my feet as I run along. I sometimes wear my regular running socks inside them on colder days too. You might be thinking why I don't just wear waterproof shoes, but I just find them too heavy and stiff for some city surfaces. Lighter shoes and warmer toes is my winter combination. I don't think I'm the only too as I now see the waterproof socks appearing in the discount supermarket middle aisles.
Protect your skin
Moving from our toes to our nose, consider the parts of our body that remain exposed in the cooler days. In the summer we wear our SPF, hats and sunglasses, but its easy to forget in winter that the wind can be drying and there are still suns rays out there. Some runners like to wear a barrier cream but if you find this too heavy, simply applying another layer of your moisturiser with SPF before you run is a great habit to maintain through the winter. If you tend to breathe through your mouth, you might also notice that your lips get very dry in the winter. A little lip balm goes a long way but dry lips can also be a nice reminder to practice some nose breathing on the run to reduce the moisture leaving through your mouth as well as improving running performance. Pull your neck buff up over your nose if you feel the cold air too much in your lungs and this will give added warmth and protection.
Changing our routine
While it's not too cold now, it's the transition to the new season that can be the trickiest to get right. By the time we are into November we will have forgotten summer running and be comfortable in our rhythm of multiple layers, longer warmups and adapted running routes for daylight and safely. Between now and then, dig deep in your wardrobe. You probably already have most of what you need, well maybe not the waterproof socks, but they can go on your Christmas wish list. Sure that will be here before we know it.
This article by Mary Jennings was first published in The Irish Times on 16th Oct 2023
Don't miss a step
Keep up date on all our latest news. Get training tips and motivation right in your inbox.